Gallery
Company Details
MASTERMELT GROUP OF COMPANIES
The Mastermelt Group continues to prosper since its formation in 1985.
All of  the sites have achieved ISO accreditations.
The Groups global reputation has been achieved through constant commitment to improve, ensuring our customers receive a unique, transparent and professional service, from collection to payment. Each business in the Mastermelt Group of Companies strive to introduce the latest technology, improving the business and satisfying the diverse needs of our customers.
GROUP HISTORY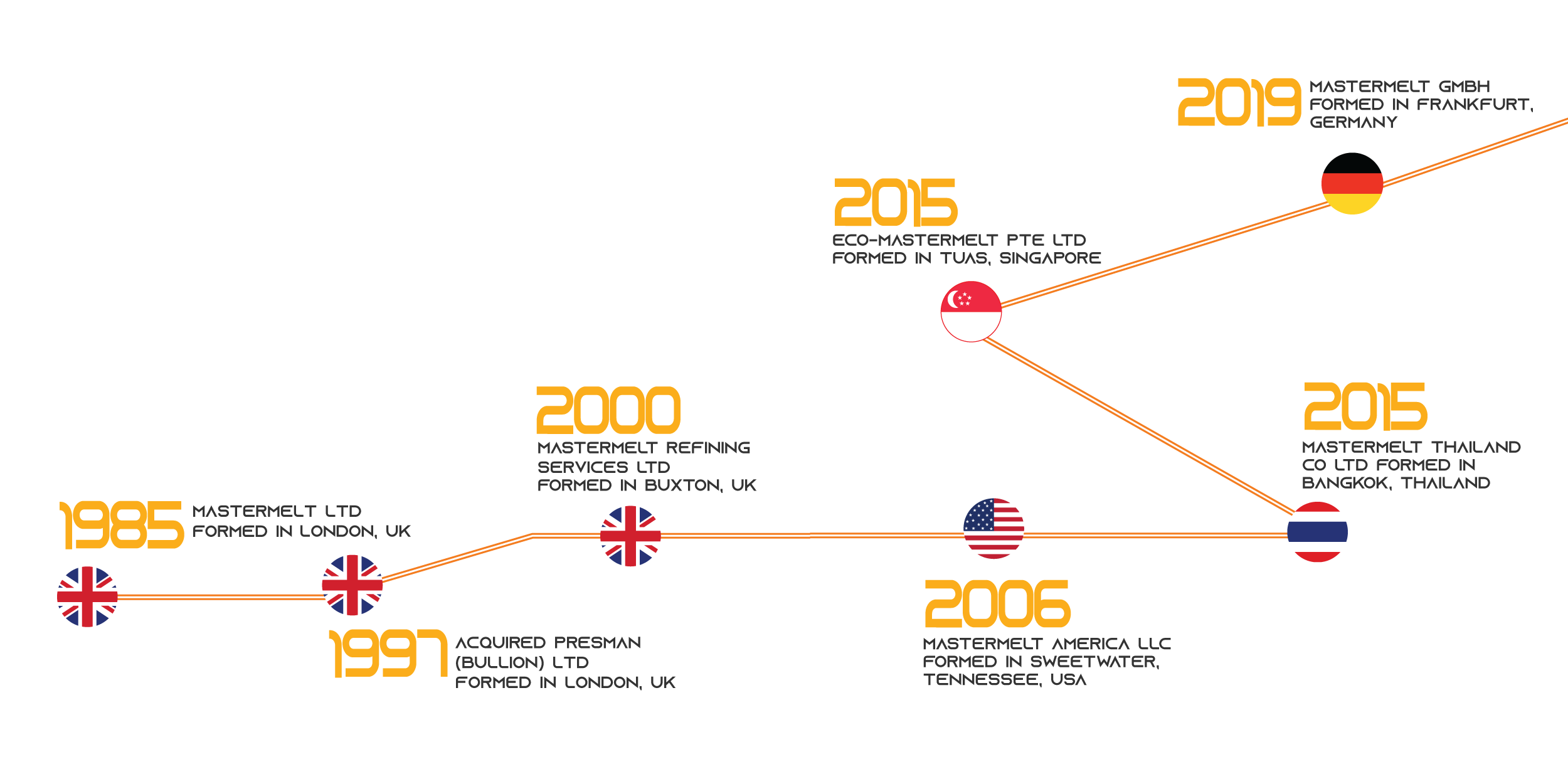 TECHNOLOGY
We work closely with our customers to identify and implement new technologies and processes to recover their precious metals.
All of our operations have developed novel technologies to treat new manufacturing waste streams which has enabled us to become market leaders.
However technology is not just limited to our refining processes as IT is another fundamental driver of our business.  Investment has been made at all our operations to install a dedicated refining administration programme that can allow us to respond quickly to customer enquiries.
Our laboratories at Tennessee and Hatton Garden have recently had a complete refit to install new spectrographic analysis equipment together with increased capacity to allow us to provide a faster assay service to our customers.
  QUALITY

  All Group companies hold internationally recognised quality accreditations such as ISO 9001/ 14001 or similar.

 All sites are registered with their respective Environmental Agencies as licensed processors materials bearing precious metal.

 The Group adopts quality processes and implements 'Best Available Technologies' at each facility.

 Customer material is handled according to internationally recognised and approved sampling and refining procedures.

 Our Tennessee operation also holds ITAR accreditation, which enables us to process material on behalf of various US Governmental Departments.
  EXPERIENCE
Since Presman (Bullion) Ltd started processing precious metal in 1945, the Mastermelt Group of Companies has grown to become an International Group processing and reclaiming precious metals for many industries worldwide.
Due to our specialist knowledge and vast processing experience, the Group has grown to become the processor of choice for companies across many industries.
 REPUTATION
Our enviable reputation is founded on the following:

 We are a financially solid organisation.

 We handle a plethora of material types from jewellery scrap to catalyst residues.

 Our international team of industry experts share their vast knowledge and experience to ensure that our customers always receive sound advice and exceptional service.
Contact Information
Hatton Garden, London, UK